It's time for this month's
Crazy Cooking Challenge
, whereby all participants use other bloggers' recipes & this month's theme is Fried Chicken. Although Tina (the brains behind this monthly event) changed the rules halfway through the month so that from now on you can post any recipe; does not have to be a blogger's - even an original creation, I had already researched and settled on this delicious recipe.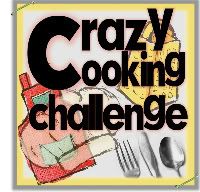 Every culture in the world I think, probably has a version of fried chicken. Different flavors and seasonings reflect the different cultures. I came across this recipe from the Ravenous Couple, which they had adapted from Maangchi, which I have used many times when looking for Korean recipes. I once cooked for a Korean themed party and this was a great resource. This recipe even won Food 52's Best Chicken Wing contest, so I knew it had to be delicious. With a few minor changes due to personal preference, here is their delicious recipe.
Korean Fried Chicken with Ginger Soy Glaze
(click here for printable recipe)
Ingredients:
3 lbs. chicken wings
1 cup rice flour
1 teaspoon salt
1 teaspoon black pepper
1 cup water
1/2 cup ginger, thinly sliced
3 tablespoons soy sauce
1/2 cup brown sugar
1/4 cup vinegar
2 tablespoons honey
1 tablespoon Korean chili flakes
1/4 cup toasted sesame seeds
peanut oil, for frying
I always dislike the tip end of the chicken wings. There is virtually no meat on it. I find it to be a waste, So I always buy the wing parts that does not include the tip end. Wash the chicken wings and pat dry.
In a shallow dish, combine flour, salt and pepper. Lightly dredge the chicken pieces in the flour and shake off excess flour.
Heat enough oil for deep frying in a deep pot or wok to 350 F. Fry for 5 minutes. Let cool and remove any grit/excess flour.
In a small saucepan, combine water, ginger, soy sauce, brown sugar, vinegar and chili flakes. Bring to a boil. Add honey and reduce to a simmer. Cook until reduced by half, about 20-25 minutes. When it cools a little, it should be the consistency of maple syrup.
Drain the oil if necessary. If you shook off the excess flour, it should not be necessary to drain the oil. Reheat oil and refry the chicken wings 5-8 minutes, until crispy and golden.
To serve, pour sauce over chicken and sprinkle sesame seeds on top.
These wings are so amazingly crispy and the perfectly balanced sauce coupled with the nutty flavor of the peanut oil just takes these wings to an extraordinary level.
LIKE THIS RECIPE? LEAVE A COMMENT..I LIVE FOR THEM!
Chef Mireille
Like me on
FACEBOOK
!
Follow me on
TWITTER
!